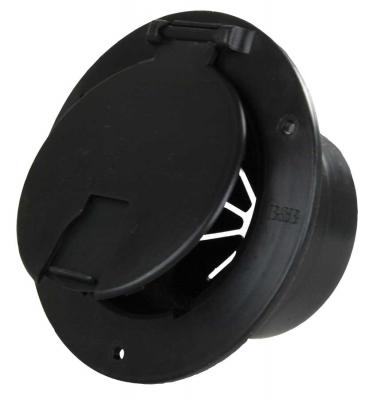 Deluxe Round Electric Cable Hatch w/Back, Black
Product Details:
• Deluxe Round Electric Cable Hatch
DESCRIPTION
New and Improved Design. Proudly Made in the USA.
If your current cable hatch is broken, discolored or cracked, this is direct a OEM replacement. The door accepts both 30 amp and 50 amp cords with a convenient snap lock feature. The cable door also includes strong hinges to ensure a durable opening and closing latch. In addition, the electric cable hatch is UV resistant to prevent sun damage and is resistant to roads salts and acids. This black cable hatch can also be painted to match any RV design.
KEY FEATURES
• Strongest hinge on the market
• Made in the USA
• Vermin door accepts both 30 and 50 Amp cord
• Door has a "snap-lock" feature
• Replaces any round hatch up to 4-1/2"
• Can replace 370-1-A and 370-2-A as an
upgrade
• Direct OEM replacement
• UV and impact resistant
• Resistant to road salts and acids
• Paintable
• Black
• Cutout Dim: 3-1/2"
• Outside Dim: 5-1/8"
• Collar Depth: 2-3/8"
Part Number:
541-3-A