Leaders in TPMS and market distribution join forces to make world-class tire management solutions more accessible than ever. 
Clarence Center, NY and Harrisonville, MO:  JR Products and Advantage PressurePro, the original provider of direct Tire Performance Management Solutions (TPMS), today announced the signing of a partnership allowing the distribution of PressurePro's FX solution through JR's comprehensive distributor network. Through this agreement, JR Products will act as a Value-Added Reseller and streamline access of the FX to a wide array of TPMS customers.
The Originals in aftermarket TPMS, PressurePro has pioneered the innovation and advancement of TPMS technology since 1991. Maintaining their family owned business roots and ideals, PressurePro strives to add safety and savings for all drivers by providing the market's most reliable, accurate and advanced solutions. Proudly providing American designed and built solutions to drivers and fleets across the world.
This partnership allows access to PressurePro's FX product, the only TPMS designed specifically for towables. Delivering a powerful TPMS tool in an easy to use, 'bring your own device' package, the FX unlocks advanced monitoring options at never-before-seen value for all types of trailers including boats, campers/pop ups, 5thwheels/toy haulers, livestock, flatbed/enclosed and more. Through the partnership, JR Products joins PressurePro's in their mission to add safety and savings for customers by implementing the FX's 24/7 monitoring and comprehensive alert schedule, which alerts drivers to tire problems in real time – driving or parked – direct to their smart device.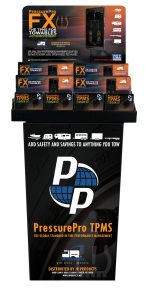 Offering the FX in fully retailed packages, JR now offers three kit variations including the FX 2 Wheel Kit, FX 4 Wheel Kit and Sensor Kit. Additionally, JR Products now offers POP retail packages of the new PressurePro FX TPMS Wheel Kits. These easy to assembly stand-alone displays, house the FX product line (all three kit variations) and come unassembled (flat) in a shipper box (40" x 20.75" x 1.5") and include a fully printed base, holding tray & informational header.
"We can now offer customers an excellent product that supports our JR Products values and standards while further enhancing the towing demographic who understand how critical tires are in maintaining safety and savings," stated Brian Roba. "This partnership represents the perfect marriage of technology and customer support. Together, JR Products and Pressure Pro will lead the industry in delivering Tire Performance Management Solutionsfor the RV and Marine lifestyles."
About Advantage PressureProTM, LLC: World leaders in Tire Performance Management, PressurePro has armed users with the market's most trusted and advanced TPM Solutions since 1991. A global company whose roots remain firm in their family owned business values, PressurePro remains driven to add safety and savings to every road you travel. Noted pioneers of their industry, PressurePro continues the innovation of their comprehensive line of offerings, providing users with the real time tire performance data needed to save fuel, extend tire life, decrease maintenance, reduce downtime, improve compliance and more. Learn more about their full line of stand-alone and integrated TPMS options at www.pressurepro.us.